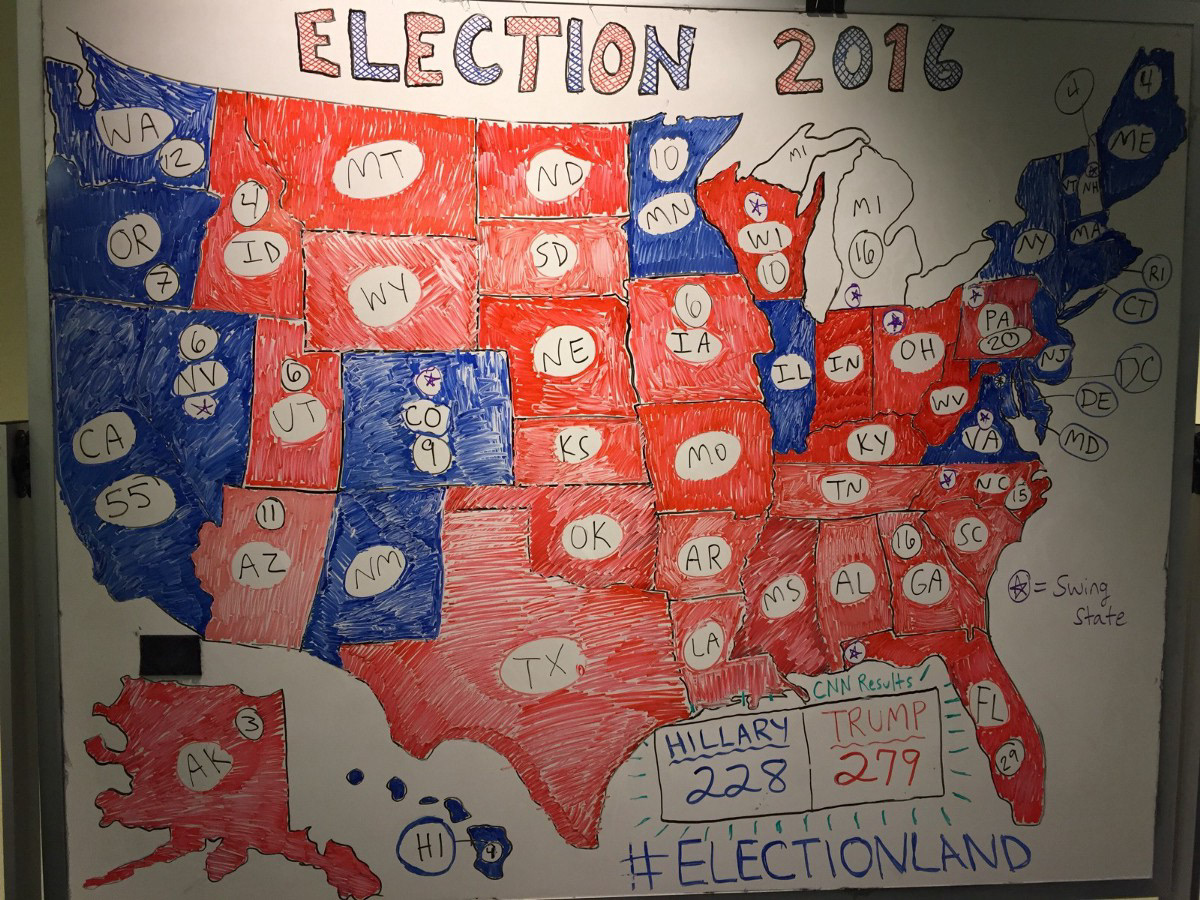 The 2016 presidential election was the first one held without the full protection of the Voting Rights Act. So obviously there was concern about voter suppression and misinformation that would prevent voters from casting their ballot on Election Day.
Electionland set out to monitor and report about voter access and issues that prevented people from exercising their right to vote in 2016 election. Electionland Coalition created a physical and virtual newsroom based at the CUNY Graduate School of Journalism that was staffed by over 700 journalists and journalism students across the country. The newsroom found and authenticated social media posts, sifted through Google Trends data, SMS and Whatsapp messages, as well as reports from the national nonpartisan election monitoring group 
Election Protection
.
Overall it seems like there weren't much voter suppression happening durning the 2016 Election. Our President Elect spent a large part of his campaign talking about large scale voter fraud and that did not happen.
My contribution to Electionland was producing Facebook Live coverage from the Electionland newsroom at the CUNY J-School. The team was made up of a few 
CUNY J-School
 students including myself and 
Colin-Pierre Larnerd
.
Leading up to Electionland we brainstormed with our professor 
Terry Parris Jr.
 from 
ProPublica
 on how to engage people throughout Election Day. There were a couple of wacky ideas involving playing games and bursting watermelons but we ended up producing content was both informative and entertaining.
The day before the election Colin and I managed a Facebook Live video for Univision Noticias with 
Rachel Glickhouse
 which helped us experiment with the Mevo camera to get comfortable for Election Day.
One of first videos produced on Election Day was one of 
Joe Amditis
 the Associate Director for the Center for Cooperative Media at Montclair State University and 
Carrie Brown
 the Director of the Social Journalism where they spoke about Electionland and what was going on the newsroom. This video was bit choppy due to some technical difficulties that we learned to manage as the day went on.
Next was video where Joe spoke with ProPublica's 
Derek Willis
 along with some j-school students, including Social J's own 
Allen Arthur
 about Electionland's mission and their roles in the newsroom.
Next we produced a video where ProPublica's Deputy Managing Editor 
Scott Klein
 spoke with Joe regarding what inspired Electionland and its progress.
Colin and I also filmed a Periscope PSA asking voters to record their experiences at the polls. We were a bit nervous but after a couple of practice runs we were ready.
Periscope
Towards the end of the night when the election results were being broadcast we had 
Noa
 draw us a map that Colin and I featured in a live coloring video. We interacted people across the nation and a couple of international viewers regarding the election results, the swing states, and some casual topics like the snacks they were having while watching. We got a boost due to ProPublica sharing our videos which increased our overall engagement.
I learned a lot about live coverage from being behind and in front of the Mevo camera on Election Day. It gave me a crash course in using a iPad connected to field mixer to produce a similar experience to a television broadcast from a control room. It was an invaluable experience and I happy I was able to contribute to Electionland.